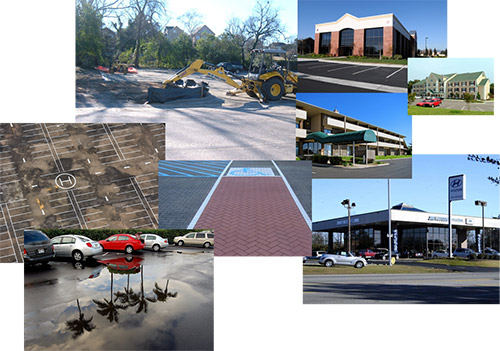 Ducksback Asphalt Paving and Repair Services
Ducksback is known for reliability, meticulous attention to detail and professionalism. Most of our business comes from referrals and repeat business. At Ducksback we value quality workmanship and our staff is highly trained and skilled construction professionals who understand and are accustomed to working within tight construction schedules. At Ducksback we know how important our work is to your business. We also know how disruptive paving a parking lot or driveway can be to your business. We utilize good planning to be able to get in and get it done as quickly as possible.
Properly constructed asphalt pavement should last at least 20 years with proper maintenance.
Sealcoating gives asphalt parking lots and driveways added life. It protects, waterproofs, and fills any small voids in the surface. Sealcoating gives the surface a "fresh" appearance while helping to protect it from the negative effects of the environment such as heat, cold, sun, and water, as well as oils and chemicals.
We handle all types of parking lot maintenance such as replacing broken pavement, hot pour cracksealing (sealing cracks), fixing potholes, re- striping, stenciling, decorative asphalt stamping, speed bumps and humps, parking bumpers, bollards, sidewalk repair, curb repair and general maintenance.